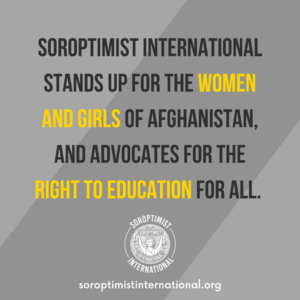 As Afghanistan returns to an acute crisis, Soroptimist International is extremely concerned about the impacts of a return to Taliban rule on women and girls. Over recent decades significant progress has been made supporting the realization of women's and girls' rights in Afghanistan to the benefit of individuals, families, communities, and the country.
Many young women and girls have never lived under oppressive rule – they have been free to pursue their education, careers, and ambitions. These hard-won freedoms cannot be lost and belong to all women and girls everywhere. Soroptimist International stands in solidarity with the women and girls of Afghanistan and encourages the international community to do the same.
Soroptimist International has released a statement calling for the immediate mobilization of aid to secure these basic rights for Afghan women and girls. All countries have a responsibility to support and protect women and girls fleeing violence and extreme oppression and to fulfill this duty countries must immediately recognize the refugee status of women and girls, and implement safe, orderly, regular, and legal migration routes that will keep women and girls protected from harm.
Read the full statement here.