2023 SOROPTIMIST TEDDY BEAR PARADE
Saturday, September 30, 2023 – Historic Downtown Gresham
Registration Deadline: Monday, September 18, 2023
Thank you to all of our generous sponsors.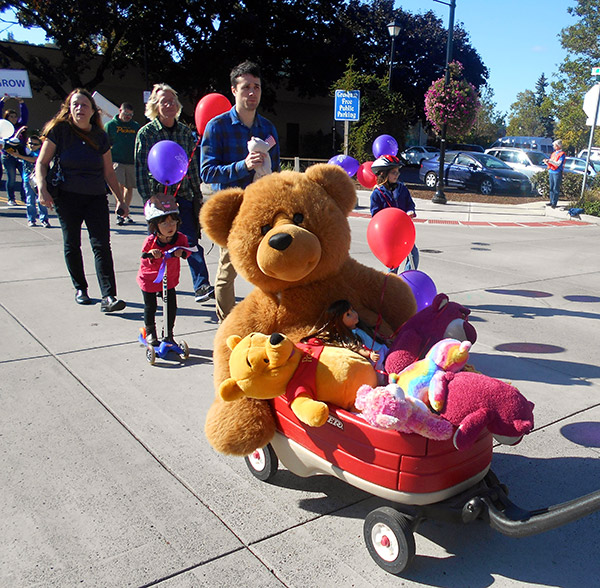 PARTICIPANT'S RESPONSIBILITIES:
Optional: Please bring Teddy Bear donations for T.I.P. (Trauma Intervention Program).
Registration form with the applicable fee AND PROOF OF INSURANCE FOR VEHICLES IN THE PARADE must be received by Monday, September 18, 2023.
Parade will form at East Hill Church at Fifth & Main in Downtown Gresham.
NO on-site registrations. Late registrations (after September 18th) CANNOT be accepted because of space limitations.
While in the parade, ALL groups must continue forward. No stopping, back steps, or side steps.
Candy and/or other objects, including marketing materials, may not be distributed or thrown into the crowd. Any

of these materials will be confiscated until the conclusion of the parade.

Safety precautions will be observed at all times.
All floats and motorized vehicles must be in place by 8:30am in the East Hill Church parking lot.
All participants must be assembled in the East Hill Church parking lot by 9:30am.
All entries will be subject to approval by the Parade Committee.
IMPORTANT:
After Tuesday, September 26th, check the parade map to find out which color group you will be marching in.
PARADE DAY:
8:00am – Parking lot of East Hill Church opens for registered vehicles only. Vehicles NOT in the parade are not allowed on the lot, with exception of persons with disabilities. Please tell your group to allow plenty of time to park elsewhere and walk. Suggested parking is at Gresham Towne Fair.
8:30am – Floats and motorized vehicles, that provided proof of insurance with their application, in place.
9:30am – All participants assembled in East Hill Church Parking Lot.
10:00am – PARADE BEGINS
PARADE RULES:
ALL ENTRIES: No political groups/candidates, please.
FLOATS: Merchants, service organizations, schools, neighborhood groups or individuals may enter floats. All floats and motorized vehicles must be in place by 8:30am
MARCHING UNITS: Adult supervision is required at all times.
INDIVIDUALS: Costumes are encouraged or participants carry bears.
MARCHERS: All children must have adult supervision.
ANIMALS: Animals may be entered provided they are under full control of their masters at all times. Owners are responsible for their pet's water and sanitation. Leashes and "Pooper Scoopers" are REQUIRED! This includes dogs and horses.
DROP OFFS: Vehicles will NOT be allowed into the East Hill parking lot to "Drop Off" parade participants. Allow yourself plenty of time to park elsewhere and walk. Parking is available at Gresham High School and Gresham Town Fair Mall.