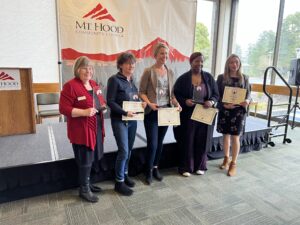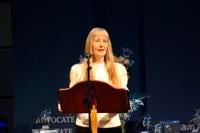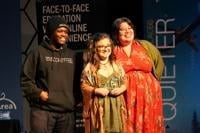 Three Soroptimist International of Gresham (SIG) members were honored in March 2023 for their service to and work in the greater Gresham, Oregon community.   SIG is incredibly proud of the accomplishments of Patricia Smith, Lori Stahlman and Amee Curtis in the community.
Patricia Smith received the Mt Hood Community College Transitions/Transiciones inaugural Community Woman of the Year award on March 8, 2023, at MHCC's International Women's Day celebration.  Patricia is the SIG Live Your Dream committee chairman.   She has worked with MHCC for years to identify applicants for SIG's Live Your Dream (LYD) awards.  The award was presented by MHCC staff member, Megan Clark, a former SIG member.  SIG awarded $14,500 in Live Your Dream Awards to MHCC students in 2023, the club's largest single annual award total in its 45-year history.
Lori Stahlman was named the Gresham Chamber of Commerce 2022 Volunteer of the Year. Lori is chairman of SIG's Fundraising Committee for the Soroptimist Teddy Bear Parade, which supports SIG Dream Program and community gifts.  Her volunteering doesn't end with SIG. During COVID East Hill Church took the reins on a weekly food box distribution that led to a line of more than 100 cars that stretched out of the church's downtown parking lot onto Main Avenue. Lori was there every time, serving as an impromptu traffic flagger and answering any questions.  "I was blessed to be on the frontlines providing a much-needed service," she said.  Lori is also active with the Chamber and its many ribbon cuttings, supports Compassion Gresham's free pop-up health clinics and, as a first degree black belt, volunteer teaches youngsters at U.S. World Class Taekwondo.
Amee Curtis, and her business, The SDF Collective received the Gresham Chamber of Commerce 2022 Small Business Award.  SDF Collective, the "new kid on the block" has been in business less than a year.  Located in downtown Gresham, SDF Collective offers unique one-stop marketing and creative studio services to its members.  SDF Collective has a photo studio with wardrobe, props and jewelry, hair and makeup stations, rental equipment, recording booths, and editing labs. All of it is in service of amplifying the voice of businesses, organizations and personal brands.  "We believe quality is a matter of commitment," said Amee Curtis, creative director. "Our team is committed to our clients."