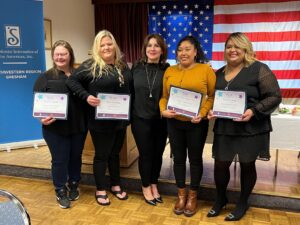 Even though the program has had other names since 1972- including the Training and Awards Program and the Women's Opportunity awards – our ambition to help women create a better life for themselves and their families through access to education and training has always remained the same.
It all started as an idea at the 1970 convention for a federation wide program.  Since Soroptimist have long endorsed furthering education opportunities for women it is no surprise that a training and upward mobility program was born called Training Award Program (TAP) in 1972.
The first awards were two $1000 awards per region and one federation award of $250.  Over the next 25 years the awards increased to one $5000 award and two $3000 per region and a $10,000 award at the federation level.  In 1997, the names changed to Women's Opportunity Award.  The award amounts continued to increase and in 2014 the name changed again to Live Your Dream:  Education and Training Awards for Women. 
Even after 50 years, the Live Your Dreams Awards continue to thrive.  Through this program, we invest more that $2.8 million in education grants to nearly 1,800 women every year.  These women have overcome incredible challenges including poverty, domestic and sexual violence and addiction.  They are on a path to a new life.  Since 1972, the Live Your Dream Awards have supported more than 35,000 women in achieving their goals and making their dreams possible